Are you bored of everyday hustle and the urban rush that is feeding on your peace of mind, every day, little by little?
If the answer is yes, then it's high time for you to take a break and escape to a place that is embraced with nature's best possessions.
Located just 122 kilometers away from Delhi, Neemrana is the perfect weekend getaway destination situated on the Delhi-Jaipur highway and lies within the Golden Triangle circuit. Neemrana captures the royalty of Rajasthan and you can feel all the grandeur gush right through your veins when you're in the majestic realm of this place.
Neemrana is full of surprises. Each spot feels like a lost token of paradise on Earth; architectural brilliance reflects in abundance here. Here are some of the magnificent places in Neemrana that you can enjoy to make your weekend getaway a magical and historical experience.
Sariska National Park
Covering a mammoth area of 800 sq. kilometers, Sariska National Park is segmented into various areas such as steep precipices, deciduous forests, fields, rough tracks and so on. What makes it special are the vast and varied vegetation and the majestic stroke of natural beauty.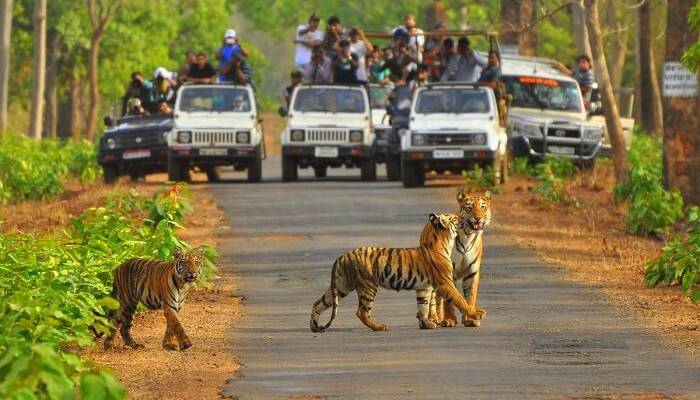 Sariska National Park is the home to several wild carnivores such as Leopard, Tiger, Hyena, Jackal, Jungle Cat and Wild Dog. These wild beauties get their daily dosage of meal by feeding on species like Langur, Chital, Nilgai, Wild Boar and so on.
The sanctuary is also rich with ruins of historical temples and forts that are centuries old. You can also catch a picturesque view of vultures and eagles, soaring high up in the sky.
If you're an animal lover, a visit to Sariska National Park will boost up your weekend for sure.
Bala Quila or Alwar Fort
Built in the 15th century by Hasan Khan Mewati, Bala Quila is a gigantic marvel located within the Aravalli Range, far and above the city. You can feel the essence of different dynasties who have ruled here, like the Marathas, Pathans, Mughals and the Rajputs.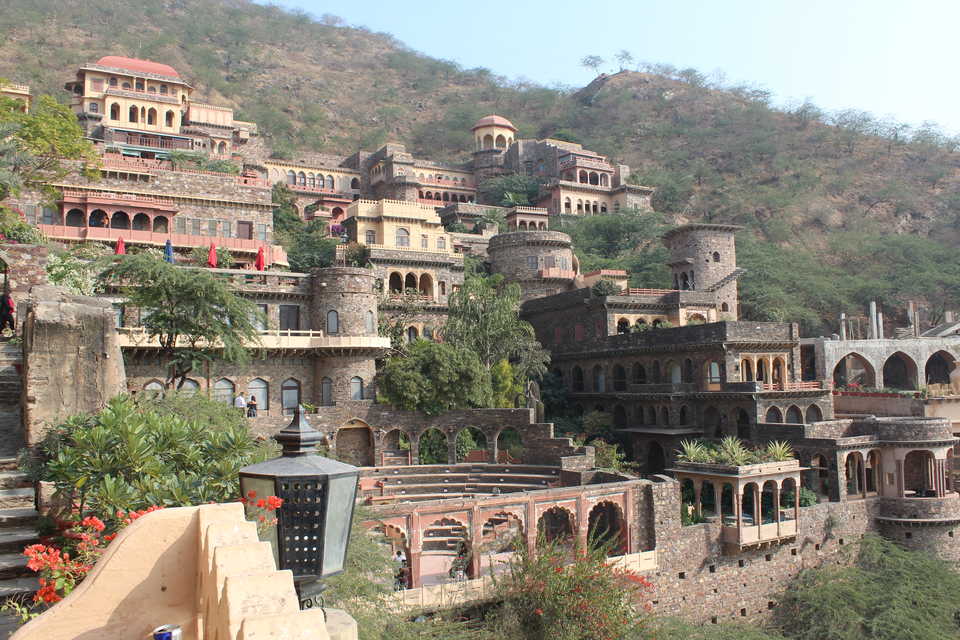 Standing strong and tall as the oldest structure in Alwar, Bala Quila covers a total area of 5 kms from North to South and 1.6 kms from East to West.
Bala Quila is an architectural magnificence in itself and it is a piece of architectural inspiration to a huge chunk of travellers who visit the fort every day.
The striking city view and the breathtaking sunset frame is something that tugs along your heart when you witness it from the top.
Vinay Vilas Mahal or City Palace
Built by Raja Bakhtayar Singh in 1793, the Vinay Vilas Mahal also known as the City Palace is one of the monumental brilliance in the city. It is the only palace that still inherits the royal essence of the Rajputs. The museum in the palace has stored various ancient artifacts and paintings that will dazzle up your eyes.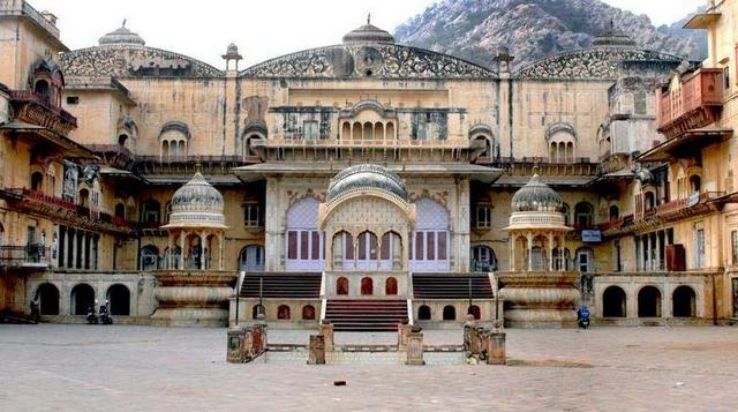 Rich in Rajasthani architecture, the palace has a grand courtyard with pristine white marble chhatris. A regal treat for all its visitors, City Palace has its own sense of vibrancy.
Cladded in an ancient yet elegant outlook, the palace is an asset in the name of history that will surely win you over.
Baori
Built around 600 CE, Baori is a subterranean stairwell that was used as a unique water-harvesting structure. The Baori
The Baoli reflects a sense of abandonment as you'll find bats seeking residence in the dingy corridors. The cracked steps, edges and the architecture overall lures tales from the past.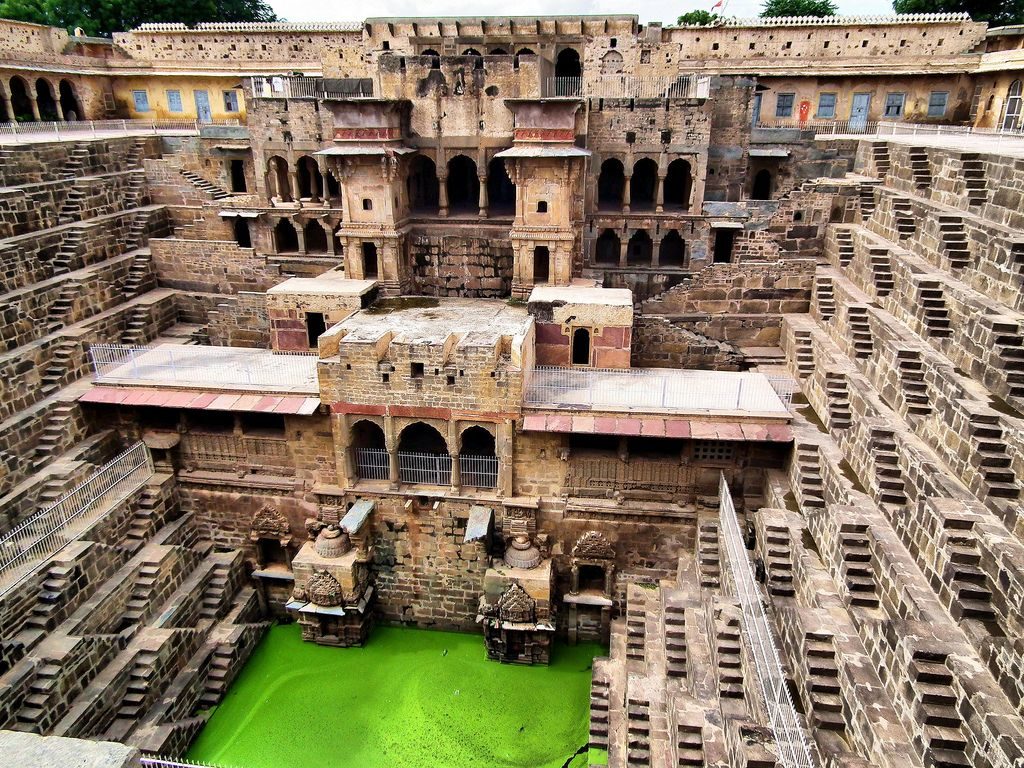 The canyon is so deep that it becomes nearly impossible to fathom its exact depth. The first impression of Baori is mostly daunting with its dingy walls and slopes; but the moment one starts unfolding the location, it turns out to be an adventurer's ultimate treat.
The picture-perfect landscape of Neemrana offers an ideal getaway if you're looking for quick refreshment over the weekend. With a choice of deluxe suites and comfortable, spacious rooms makes Days the best hotels in Neemrana. It provides special benefits, facilities, and amenities to all its guests; whether they are visiting for leisure or for business purposes. The Hotel also has a wellness center comprising of the swimming pool, Jacuzzi and spa which is open to all guests staying here. The hotel also houses one of the best Japanese restaurants in Neemrana where you can satisfy all your Pan-Asian cravings.

Among all the hotels in Neemrana, Days looks up to its guests' needs and necessities and treats them as a priority; and that's what makes Hotel Days Neemrana stand apart from the other hotel brands here, making it one of the best hotels in Neemrana.
What are you waiting for then? Pack your bags and head out for an exuberating weekending experience at Neemrana.